Ahhhh… any episode that opens with Jamie and Claire having sex is a good episode, right?
When the camera pans back to Claire and we get BJR instead, though, wow. Horrors. And then the stabbing and the splattering blood, and the zombie coming back to life part. I remember being fully awake when I saw this the first time. Diana did say her books have been sold under the horror genre at least once.
Ah yes, Ira Steven Behr wrote this episode. He also wrote those cracking necks in episode 115, Wentworth Prison. Hmmm, and he wrote Episode 110 which opens with Jamie's red curls between Claire's legs as she climbs to orgasm. I think Mr. Behr likes to get our attention right away, and he's very good at it.
Here is a deleted extended scene of that dream, which becomes a nightmare…
And here's a what happened during one of the takes in filming that scene, captured on the S2 gag reel
Everyone seems to have survived the ordeal (yuk!)
In the next scene, I absolutely love the way we get a tour of Jon Gary Steele's magnificent two story French apartment set, complete with cobble stone courtyard, as Suzette follows Claire through the rooms, complaining that she makes her own bed and folds her own clothes. Bear McCreary's lively Parisian score ushers us through the rooms, effectively demonstrating that we are indeed not in Scotland anymore (the title of this episode).
Here is a piece I did on Jon Gary Steele's Season 2 work (one of my first ones) which includes some interesting information about the making of the Parisian apartment set.
We also get to see Terry's amazing Dior inspired dress for Claire…
and the streets of Paris (filmed in Prague) filled with people in so many wonderful costumes.
To me, this season was a behemoth for Terry and Gary, and they absolutely killed it. Here is an interesting interview with Terry about creating S2 costumes- TERRY on S2
Book fans will likely recognize the below extended deleted scene which comes straight from the book – in which Claire meets the amphibious Master Raymond for the first time, and glimpses his involvement with the occult.
Here's another extended deleted scene from this sequence, in which Master Raymond warns Claire about the Comte St Germain. Dominique Pinon is a wonderful Master Raymond.
Good old Murtagh is the link back to Scotland for us throughout this season. "Asses and armpits!" indeed…
He's the only one who seems to be able to put a smile on Jamie's face as well
And then of course we get to go to Maison Elise (my first time in a brothel!)
and meet the Bonnie Prince played by Andrew Gower, who does a fabulous job of playing the frilly, spoiled, kinda crazy prince.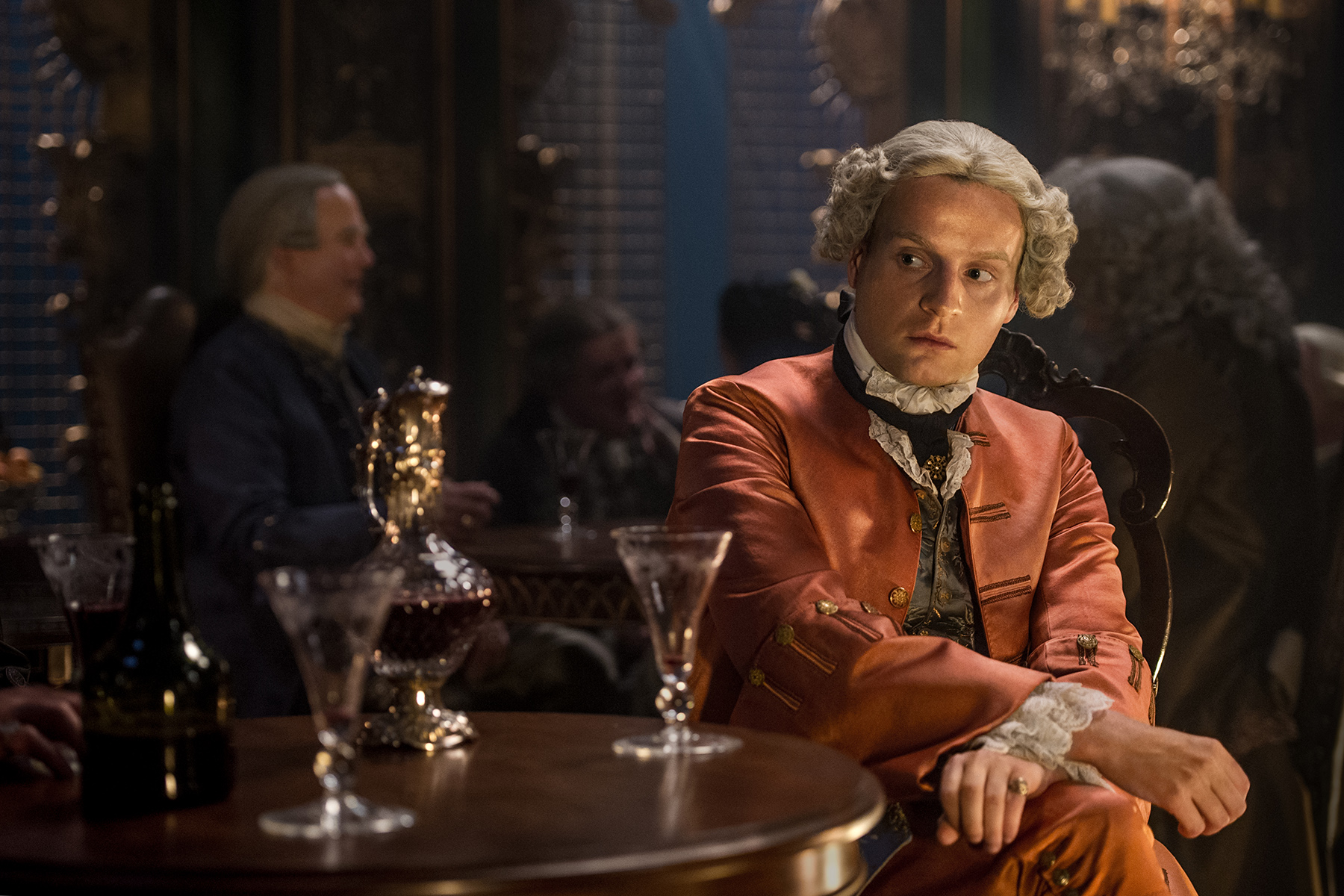 One of my favorite lines in this episode is Jamie's: "I wouldna trust the prince with Lallybroch's vegetable patch, let alone the fate of Scotland."
I love the waxing scene at Louise's. Hilarious, and well played by all… I know I'm sounding redundant by now, but I think Claire Sermonne was a consummate Louise. The dimples were the perfect cherry on top. And Rosie Day does a great job as Mary too.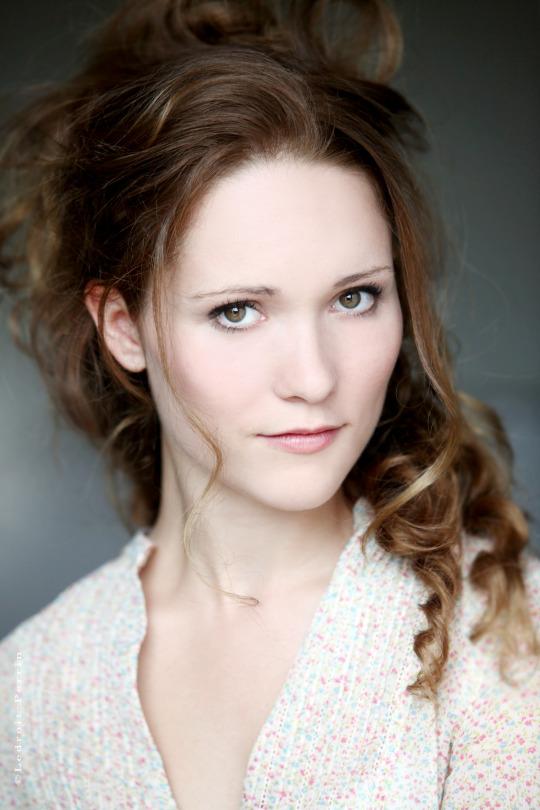 The honeypot scene… well, this scene falls victim, in my opinion, to the plight of Season 2: trying to fit SO much in to only 13 episodes. In the book, Jamie is upset that Claire has changed herself. Remember how the first thing he does on their wedding night is to plunge his nose into her hairy oxter to get the scent of her? He makes reference to doing that when training a new horse, to get them used to you. There's something primal about that. [CORRECTION: I had a memory lapse here, It was Claire's honeypot that Jamie plunged his nose into on their wedding night. When she protested, citing the possibility of being malodorous, Jamie explained about putting a horse's nose in your oxter as a means of getting better acquainted. Thank you Astrid, even more primal!]
This scene, by contrast, was playing a dual role – a rendition of the honeypot scene + portrayal of Jamie's continued trauma. Both are appropriate, and I think Sam and Cait play the trauma part of this scene well; however, grouping those together lets the air out of the tire of the honeypot scene. It's understandable given the demands and constraints of a screen adaptation, I get it.
Sam had a big challenge in the first part of S2, to portray Jamie as a man (which he was, even in his young 20's), though still innocent in some ways, and also suffering the after effects of trauma.
The honeypot scene made the blooper reel also. This episode has lots of bloopers and deleted scenes apparently!
I love the way the red dress was revealed, with the shot of Claire's hand clutching her fan, moving down the railing as she descends the steps, with the music, and cutting back to Murtagh and Jamie's banter downstairs about dirty knees. And then the hem trailing down the steps… and then voila. Wonderful. Below is a behind the scenes shot of that scene being filmed…
I did feel that Jamie's protests about her dress were mild and that he gave up the fight a little more quickly than the Jamie we know and love. Jamie's character is a bit more menacing, even with Claire. And then Claire is bossing Murtagh around again. I look forward to a more commanding Jamie and a less bossy Sassenach in Season 3, with all due respect.
The costumes are simply stunning.
As I re-watch this episode, I am amazed at what they fit into it. So many new characters were introduced: Annalise de Marillac, King Louis XV, Duverney, Louise, Mary, Bonnie Prince Charlie. A TON of ground is covered in this episode!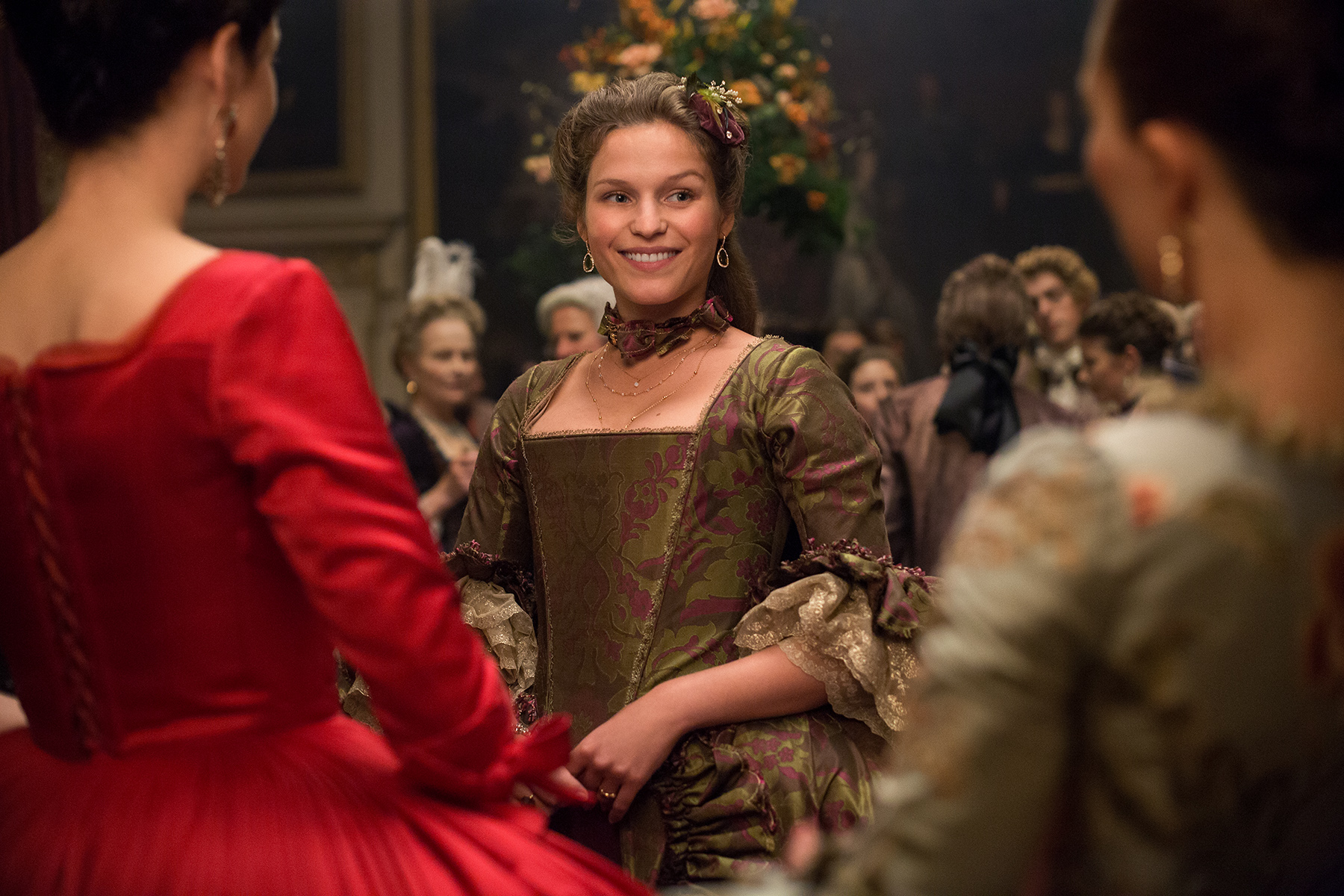 And who could forget our first sight of King Louis XV on his throne 😂? I remember being shocked when I read about this in the book. Maybe the poor king just had stage fright. Can you imagine trying to do your business in front of a big crowd with expectant faces every day??
Murtagh's expressions are priceless.
"Only in France does a king need an audience to shite."
Duverney is a perfect slime ball.
But, again, I felt Jamie was a little too sweet and quick to forgive Duverney in the apology scene. I remember Jamie being thoroughly PISSED in the book. His moral values always come before any external agenda, that's why we love him.
Lionel Lingelser is wonderful in his finery, along with his date in the extraordinary nipple dress.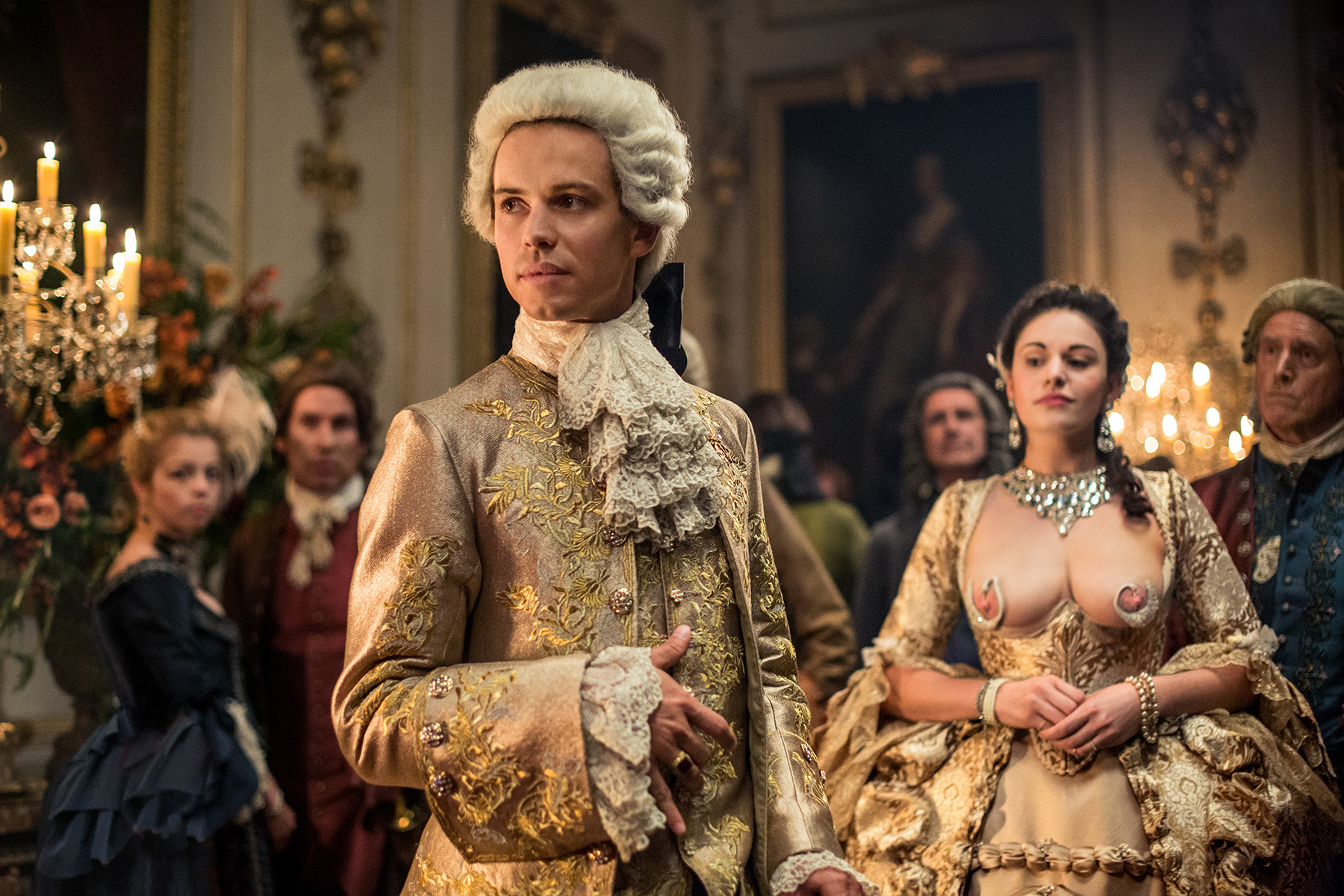 Duncan wins best face actor in this episode… (though I'm guessing this scene didn't stretch him too far as an actor 😂)
Then this wonderfully horrible guy shows up – I can't sing the praises of Simon Callow enough for his portrayal of Sandringham.
And again, everyone has a temper and is seething but Jamie. Sandringham gave the letter of petition to BJR which BJR then burned in Jamie's face right before (and after) he did horrible things to Jamie! Jamie is not likely to be diplomatic. But, in this rendition, Claire sends Jamie off so she can handle the situation… <sigh>.
We meet Alex Randall, and of course he drops the bomb about Black Jack still being alive. It's a good ending, with Sandringham, the fireworks, and Claire in shock.
Here is Ira Steven Behr's insider commentary on episode 202
That's a wrap.
OK, if you're reading this today (Sunday, July 9), Sam will be doing a Q&A on Twitter at 12:00 Pacific time. No worries if you're reading this after that time, for I shall recap it. Here's that Sam Q&A Recap.
I hope everyone is well! x